February 17, 2021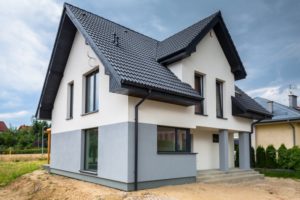 There's nothing like driving up to your home after a long day of work or running errands and being comforted by it's relaxing and welcoming curbside appeal. If it has cracked, chipped, and faded paint, it may make you feel like you have a large project on your to-do list lurking over your head, keeping you from being able to feel at-ease and stress-free as you park in your driveway. You can protect the exterior of your home and help it feel more welcoming with a fresh coat of paint. Read on to learn about the top five exterior paint trends that homeowners are choosing in 2021.
Pale Blue with a Green Accent
Pale blue and green are both cool, relaxing colors that you might find on the walls of a modern spa. If you live in a natural area with greenery, this exterior color combination can help your home pop without disrupting its surroundings too much. Pale blue is a calming and interesting color, and when accented by green trimming, beautiful landscaping, or other pops of green surrounding the exterior of your home, it can look absolutely beautiful.
Modern Two-Tone
Whether you have a split-level home or one that looks a bit segmented on the outside, you can make your home's uniqueness pop with two-tone paint (which is also becoming a huge trend for painted kitchen cabinets as well!). Not only does it look modern, but when paired with juxtaposing colors, like black and white, you can make your home look purposefully artistic and different.
Contemporary Dark Grey
When you think of exterior home colors, the last ones that probably come to mind are black and dark grey. This moody trend is helping homes with gorgeous greenery and lush surroundings pop, all while maintaining a very classic, clean appearance.
Classic Black & White
Looking for something unique, dark, and contemporary, but not too out of the box? Homeowners are painting the exterior of their houses black and highlighting it with white trim. This monochromatic look is a jaw-dropper and works well in a variety of surroundings.
Clean, Modern Slate Blue
Combine a beautiful blue with grey undertone and get a relaxing, modern, and tinge-of-industrial slate blue color. This trend is a great option for homeowners who are looking to maintain a more traditional-looking and clean home, but want to also make it feel more modern and updated. Pair it with white trim, and your home will truly stand out from the crowd in the best, non-overstated way.
There are so many great exterior home color trends emerging in 2021 that will soon turn into timeless classics, so it's a good idea to stay ahead of the curve and modernize your home now! With these five styles, you'll be able to drive up to your home after work and feel a wave of calming relief wash over you.
About Platinum Painting of Dallas
At Platinum Painting of Dallas, our team of expert residential painters stays up-to-date with the latest painting trends that homeowners are using. We're happy to provide input and opinions for homeowners who are looking for a little direction as well. In addition to exterior painting, we offer a variety of home improvement services, like kitchen cabinet painting and popcorn ceiling removal. For questions or to schedule a free estimate, visit our website or call 214-347-7269.
Comments Off

on 5 Exterior Painting Trends in 2021
No Comments
No comments yet.
RSS feed for comments on this post.
Sorry, the comment form is closed at this time.