June 18, 2021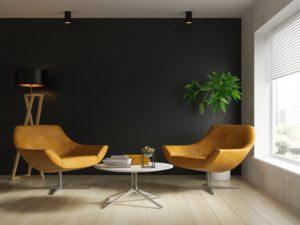 The inside of your home is your own, personal sanctuary that you can retreat to after a hard day's work, running errands, or dealing with unfortunate situations life throws at you. However, if your home hasn't been updated in 10 or even 20 years with a fresh coat of paint, it might not feel as relaxing and welcoming as you may want it to. A fresh coat of paint will help bring it into the 21st century, allow you to impart your unique style onto it, and make it feel newer. Read on to learn five interior paint trends that homeowners love in 2021.
Every Shade of Blue
It's no surprise that countless homeowners have turned to painting their house every shade of blue in 2021. There are so many shades to choose from that you can make your room feel warm, welcoming, calm, or rich and creative—all by using different shades of the same color. 2021 has been a rough year for most people, but with these oceanic, bold, or bright accent blues, you'll be able to come home to a house that makes you let out a sigh of relief.
Nature's Tones
Mother nature is never wrong, and the same goes with her natural, beautiful tones that we see every day when we go out for walks, hikes, or drives. Beautiful shades of browns, greens, and tans with wild-flower-like pops of colors are peaceful and clean. Plus, after spending an entire year indoors due to the pandemic, it makes sense to transform your home into an ode to the outdoors.
Rich Eggplant Purple
You'd never guess it, but the truth is, eggplant purple has been turning homeowner's heads in 2021. It's beautiful, rich and deep shade is the perfect way to add depth to a room that's bright and balance it out to make it not feel so sterile.
Neutral, It's Not Boring
When people think of neutral colors, the first word that typically pops in their heads is "boring." There are so many neutral colors out there, and they're not all boring! From gray to off-white and black, neutral colors can really bring out the interior decorator in you, because they'll perfectly compliment almost any piece of furniture or accent piece that you purchase for your home.
Bold & Creative Yellow
If you're someone with a bigger and brighter personality than pastels and neutral colors can handle, you can turn to a bolder color—yellow! Not only will they create a beautiful sunshine-like environment that you'll never want to leave, but it's a color that exudes confidence as well.
Getting in-touch with the latest trends can give you a starting point to choose the perfect interior paint color for your home, but it doesn't have to define your project! Go with your gut and choose the shades and colors that stick out to you and represent your personality.
About Platinum Painting of Dallas
At Platinum Painting of Dallas, we take pride in offering interior and exterior painting services where every detail is considered. We never cut corners and always strive to provide the best-of-the-best results, which is why we offer a satisfaction guarantee. Our experienced and friendly team also comes fully insured, so you won't have to worry about lifting a finger to get the results you want (unless you want to!). To schedule a free in-home estimate, visit our website or call 214-347-7269.
Comments Off

on 5 Interior Paint Trends for 2021
No Comments
No comments yet.
RSS feed for comments on this post.
Sorry, the comment form is closed at this time.