January 17, 2022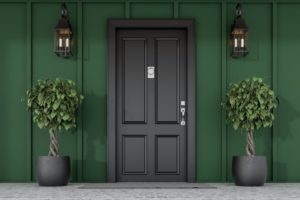 This time of year, many homeowners like to check some improvement projects off their to-do list. Some projects require a lot of time and effort, but few have an immediate effect like painting the outside. When you choose to hire an experienced painting company, the hardest part is deciding the color(s). Here are the exterior paint trends you need to know about for 2022.
Warm Neutrals
Over and over again, some neutral palettes are favored by designers. Warm off-whites are a classic choice, and these shades are perfect for creating a comfortable setting inside or outside the house. They also pair well with many other colors!
White
True white tones are also very popular now, whether as the primary color or a highlight. But you can choose a more subtle and gentle hue. The right white can help your house stand out with a sharp, classic look.
Darker Hues
Would you like your house to have a color with dramatic flair? You could opt for a darker gray or gray-green hue. These moody, bold colors are well balanced—deeper than white but not as heavy as black. Also, they can complement many wood tones and stone, helping you set a warm, homey atmosphere.
Natural Green Tones
Do you find nature soothing? Did you know that you can bring some of that sensation home with you? This year, green is very in style with designers. Even if you don't like natural tones, there are plenty of other green hues to choose from, giving you a wide variety of unique, beautiful options. Green also works exceptionally well with many neutrals.
Why the Right Exterior Paint Matters
Even if you don't plan on moving out of your house any time soon, it's important to keep your property updated and well protected. Buyers won't give your house a second glance if it looks shabby, aged, or poorly maintained. Remember the exterior paint doesn't just need to look nice; it provides another layer between your home and the potentially damaging weather.
If home improvement is on your 2022 list of things to do, your exterior paint can make a huge difference and make your home feel more warm and welcoming before you even set foot inside. By choosing on-trend colors for the exterior, it can stand out in the best possible way!
About Platinum Painting of Dallas
Platinum Painting of Dallas is the top rated residential painting company in North Texas. In fact, we invite customers to read our reviews! Whether scheduling a free, in-person estimate or doing the final inspection after painting, we put our customers first. Would you like to get a quote for your exterior painting project? Contact Platinum Painting of Dallas today!
Comments Off

on 4 Exterior Paint Trends in 2022 You Need to Know
No Comments
No comments yet.
RSS feed for comments on this post.
Sorry, the comment form is closed at this time.