June 8, 2022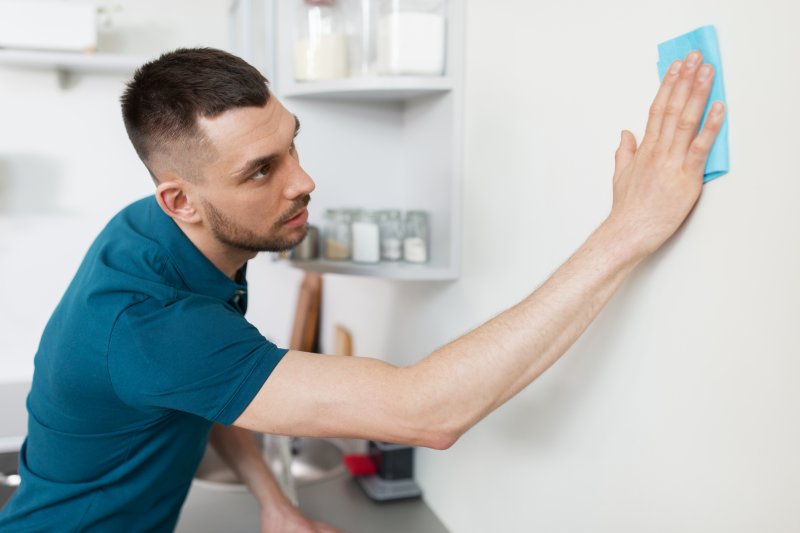 Many homeowners take pride in keeping their houses neat and clean. After all, who doesn't want their home looking beautiful at all times? To accomplish that, you may clean your walls regularly – maybe even more than the average person if you have kids. But have you ever wondered if you're doing it properly? Using the right technique is essential to creating a healthier environment for your family. Read on to learn how you should go about cleaning the walls properly and safely.
Dust First
When cleaning walls, the bulk of the job consists of removing dust and dirt. Most of it can easily be taken off without a cleaning solution. All you need is a clean cloth and a broom! Simply put the cloth on a broom and use it to dust the walls. Later on, you can focus on getting rid of more difficult grime with a cleaning solution.
Keep the Finish in Mind
Take a close look at the walls in your home – do you spot any differences in the paint finish? There are some rooms that have a more matte finish, while others (like the kitchen) may seem shinier. Before cleaning anything, make sure you know what type of finish the area you're working on has. Otherwise, you could accidentally remove paint in the process.
Use the Right Cleaning Solution
Some cleaning products may be too harsh to use on walls. That's why it's best to use warm water and dish soap. With a sponge and a bit of elbow grease, you can remove grime without taking off the paint as well.
If you have more stubborn stains (i.e., red wine), use hydrogen peroxide! Pour some onto a clean cloth, press it onto the stain for about five minutes, and wipe away. The stain should come right out.
Test the Area
Test out your cleaning solution on a small area of your wall. Make sure you choose a hidden spot, like behind a painting or a piece of furniture. That way, you can ensure your solution won't damage the paint or wall.
Think About Safety
Grime and dirt can easily accumulate around light switch plates and outlet plates. Before cleaning, make sure you turn off the breaker. Avoid using a lot of water on your sponge or rag to lower the risk of potential electrocution.
Wash with Gentle Circular Motions
You don't need to scrub aggressively to properly clean your walls. Instead, use gentle circular motions. To avoid bubbling and watermarks, make sure your sponge or rag is damp – not sopping wet.
Do Regular Maintenance
It's a good idea to deep clean your walls every now and then. However, you can keep your walls looking their very best with regular maintenance. For example, regularly dusting the walls, spot cleaning, and focusing on high-traffic areas can make your home stay in tip-top shape.
Are you thinking about cleaning your walls? Follow the steps outlined above! Doing so will make your home feel fresh and welcoming once again.
About Platinum Painting of Dallas
At Platinum Painting of Dallas, we want to make your home one you'll enjoy living in. Our skilled and knowledgeable team will always go the extra mile on every project, ensuring you get the stunning results you deserve. To learn more about our painting services, visit our website or give us a call today.
Comments Off

on How to Properly Clean Dirty Walls
No Comments
No comments yet.
RSS feed for comments on this post.
Sorry, the comment form is closed at this time.