November 17, 2022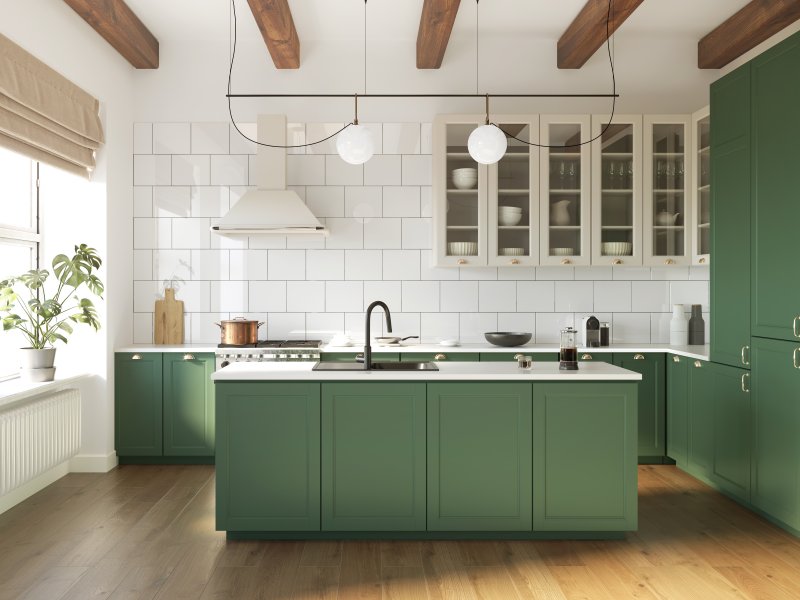 Feel like your kitchen needs a change? While there are tons of vibrant colors to choose from, you probably don't want to paint your kitchen cabinets orange or red. They're beautiful shades, but they simply do not work on kitchen cabinets beyond certain time periods in the past. If you want a look that'll stand the test of time, you should consider a more classic color that'll actually last. Read on to learn which classic color choices you should consider for cabinet painting.
White
There's nothing more classic or timeless than the color white. It's clean, refreshing, and will make your home feel airier and lighter. In addition, it pairs well with almost any other color scheme. The neutral color works well with any home design choice like modern, farmhouse, traditional, and more. If you don't want to opt for a true white, you can choose an off-white. A warm or cool version of white can still be classy while being more stylized to your personal taste.
Gray
Like white, gray is a popular choice that works well with several styles and color. However, it can also give you home more depth. For instance, dark gray cabinets can make your kitchen look sophisticated without needing to commit to the color black. Best of all, dark gray can hide little scuffs and other flaws.
Black
If you want to make a bold statement with your kitchen cabinets, you should consider painting them black. The deep color choice will transform your space into the chic center of your home. Since going completely black might be overwhelming, you can simply paint the bottom cabinets black and the upper cabinets in a contrasting neutral shade. Alternatively, you could paint the island black while leaving other cabinets in another color.
Sage Green
Don't want a neutral color? Sage green is an excellent choice that's safe and long-lasting. It comes and goes a favorite in home design trends. One reason why it's so popular is because it adds a nature-inspired calm feeling to the space. If you only want to add a hint of this color to your kitchen, you can just paint the island cabinetry.
Choosing the right color will turn your kitchen into a time capsule. Not only will it look beautiful, but it'll look modern and stylish for years to come!
About Platinum Painting of Dallas
At Platinum Painting of Dallas, we're more than ready to help revitalize your kitchen space. Cabinet painting is a budget-friendly service we offer to upgrade your kitchen. With a fresh coat of painting, your space can look shiny and new once again. For an estimate, visit our website or call (214) 347-7269.
Comments Off

on Classic Colors for Painting the Kitchen Cabinets
No Comments
No comments yet.
RSS feed for comments on this post.
Sorry, the comment form is closed at this time.