Exterior Painting – Dallas, TX
Give Your Home A Beautiful Makeover
The truth is that painting the exterior of your house can make it look better, protect it from the elements, and even increase property value, but that doesn't mean that it's not hard work! Instead of relaxing during your limited free time, you'll instead find yourself up a tall ladder with a roller in hand. Instead, with Platinum Painting in Dallas, we're ready to do all of the work for you so you can just enjoy the final results without the stress.
We'll start by thoroughly inspecting the exterior of your home during an initial consultation, and then we'll draft a written proposal with comprehensive cost information. This all comes at no cost to you whether you end up choosing us or not! We think that you'll find that our services have the ideal combination of excellent quality and reasonable pricing.
With us, we'll make sure that your home stands out in the best way possible, all without you having to lift a finger! To get started, give us a call today.
Why Choose Us:
Based in Dallas
Insured
Satisfaction Guaranteed
Serving All of North Texas
What Can We Paint?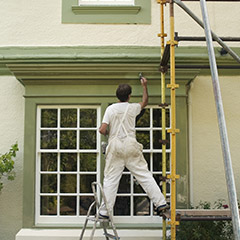 When it comes to exterior painting, our team has seen it all and done it all, having served over 10,000 homes since we began in 2008. We have experience working with every kind of material, design, and fixture you can imagine, so we feel completely confident about painting:
Wood
Brick
Composite
Vinyl/Aluminum
Fascia/Eavestrough
Stucco
Decks
Patios
Fences
Railings
And much more!
No Detail Is Too Small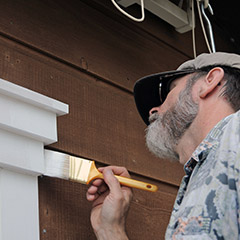 When choosing the right kind of paint and colors for the exterior of a home, there are a lot of factors to take into account. Your tastes, the climate, the weather, and certain areas that are likely to encounter a lot of moisture (such as skirting) all need to be considered. And, if you have any kind of shrubbery, flowers, or colorful trees, you'll likely want to make sure that your paint choice complements them as well. We can even help mitigate flaws in the structure to draw attention away from them. In other words, we'll think of everything so you won't have to!
The Steps of Exterior Painting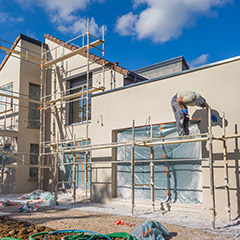 Set Up: We'll start by power washing all painted surfaces to remove dirt, sand, and mildew as well as scrape away any loose paint. We do ask that homeowners turn off their sprinklers and remove any outer water plants and art fixtures. To learn more about this process, you can visit our Getting Started page.
Priming: A high-quality primer will help us prepare your house for its new paint job and ensure that it stays put.
Painting: We'll place your chosen color(s) on all requested surfaces and gloss them to your liking, which will help protect your home from the weather as well!
Cleanup: No matter the scale or the length of the job, our team will always clean up after themselves daily, getting rid of any paint chips, packing materials, and trash that might accumulate. We'll make it look like we were never there (other than the paint!).
Inspection: You'll have a chance to look over our work and let us know what you think. We won't consider it finished until you're completely satisfied!
Dedicated Color Consultation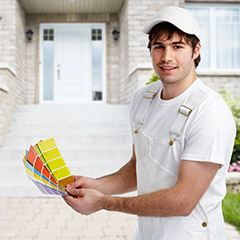 A little overwhelmed trying to choose a color for your home's exterior? You're not alone, as there seems to be an infinite amount of shades for about every color you can imagine. To make this decision easier, Platinum Painting can provide you with one-on-one color consulting, helping you choose the color(s) you want with complete confidence. You can also use the Paint Color Visualizer from Sherman-Williams to play around with different options to give yourself some general ideas.
Frequently Asked Questions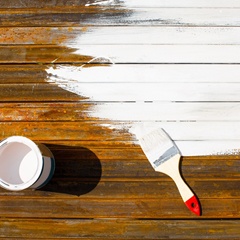 Whether you're hosting an important get-together at your house or you're hoping to impress potential buyers, the outward appearance of your home matters. After all, it's the first thing people see, and you want to make a good first impression. Well, choosing the right painting service company can make all the difference both in the results and in your home improvement experience. We at Platinum Painting have been serving homeowners in North Texas for over a decade now. Over that time, we've delivered exactly what our customers want—beautiful results that make their home stand out in the best possible way. Here are the answers to some common questions we've received for exterior painting.
Is it ever too hot or cold to paint? What is the best season to paint outside?
At Platinum Painting, we do our best to create an efficient schedule that works for you. With exterior painting, that can get a little tricky with the crazy Texas weather. When the temperature goes over 100 degrees in the summer months, we schedule our projects earlier in the morning so that we can finish before the hottest part of the day. As you might imagine, on days when it's raining or there's frigid weather below 35 degrees, we will have to reschedule the work so that we can provide you with flawless-looking results.
Should I replace my gutters when I paint?
If you're planning to paint your home's exteriors, take a look at your gutters as well. Do they divert water away from your house like they should? If not, your house can experience expensive water damage as a result. As our sister company, Platinum Gutters can replace your faulty gutters for you, or we can work with the gutter company of your choice to coordinate scheduling. That way you'll have a smoother experience. By tackling these two home improvement projects at the same time, you can keep your home looking good and protecting you from the elements for many years to come!
Can you paint metal fences and gates?
Definitely! We paint all kinds of exterior surfaces, including metal fences, railings, and gates. Our team members have years of industry experience and know how to ensure your complete satisfaction with our work and how to make these surfaces withstand the elements for as long as possible. From the accurate estimate to the final inspection, we work efficiently and effectively to give you the amazing results you want.
Can you replace the wood before you paint?
Absolutely! Here in North Texas, we get all kinds of crazy weather that can damage the wood surfaces on the outside of your home, such as the soffit or fascia. Over time, exposure to water can make these surfaces rot or start to grow mold or mildew. If this has happened to your house, call Platinum Painting! Although we're primarily a painting company, we have talented carpenters on our team who can address these important parts of your home's exterior so that it can stand up to whatever the Texas weather throws your way. Don't worry—our satisfaction guarantee still applies to our carpentry work.