Popcorn Removal – Dallas, TX
Get Rid of Stubborn Popcorn Ceilings
Popcorn ceilings were extremely popular around the middle of the last century, but that look has definitely gone out of style. Many homeowners would love to get rid of them, but removing these textured surfaces is difficult, messy, and can even be dangerous if they contain lead or asbestos. This is where the Platinum Painting of Dallas team can help. We can not only remove the popcorn, but we can give your ceiling a brand new coat of paint as well if requested! To learn more about your options and get a free quote/estimate, contact us today.
Why Choose Us:
Based in Dallas
Insured
Satisfaction Guaranteed
Serving All of North Texas
The Benefits of Popcorn Removal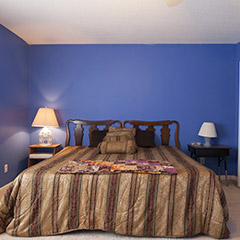 Suffice it to say, popcorn ceilings and walls are dated, and if you'd like to have a house that looks modern and sleek, they should be the first thing to go. Many of our clients are truly amazed by how much of a difference this can make. This one change can instantly make your home look more attractive and up-to-date, which is especially good news if you're thinking about selling.
These kinds of ceilings are also big magnets for a lot of dust and grime, particularly near ceiling fans. Attempting to clean them often makes a much bigger mess than when you started! If you like a clean house (and who doesn't), de-popcorning the ceiling is an easy way to lower the dust level in any room.
The Steps of Popcorn Removal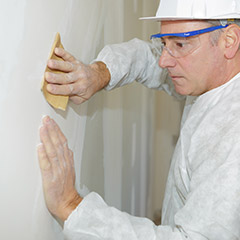 Prep: We'll remove all fixtures and light switches from the room, and the floors and furniture will be covered or moved out of the space.
Removal: Our team will use a high-powered water gun to spray the walls/ceilings to soak them, and then we'll use special scraping tools to remove the popcorn in large chunks.
Resurfacing: Once we've reached the underlying layer of the ceiling, it will be filled to create a flat and attractive finish, which we'll sand and prime afterward.
Cleanup: We'll clean up everything so you'll never have to see the popcorn again! We've done this countless times, so don't worry, we'll definitely get everything!
What Happens Next?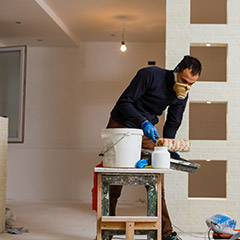 After we've banished the popcorn from your house, Platinum Painting can apply a fresh coat of paint and even texture to completely renew the room and bring it into the 21st century. We can work with you to figure out the perfect colors so you absolutely love the end result.
FAQs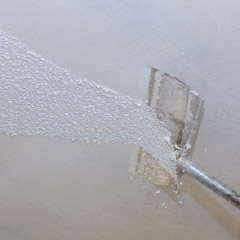 As a residential services company, Platinum Painting can do so much more for your home than simply apply coats of paint on the walls. Ultimately, we help you make your design dreams a reality for your home. That's why we also offer popcorn removal services as well. Before you decide to hire us, you may have questions about this particular service. Below, we've answered some common questions about removing popcorn ceilings. Feel free to contact our team if you have additional questions or if you want to schedule your free estimate. Always happy to help, our team will do our best to meet your needs!
Why should I remove my popcorn ceiling?
Although popcorn texture was very popular at one point in the last century, styles and tastes have changed. This often turns homebuyers off with its chunky appearance and its tendency to accumulate dust and grime. Unless there are signs of damage, removing the popcorn ceilings may just be a change in how your home looks and feels, but you'd be surprised how dramatic the transformation can be with this one step. Our experts at Platinum Painting can help you redesign your home to be easier on the eyes and easier to maintain.
Will my ceiling be ready to paint once it is removed?
Transitioning a ceiling with popcorn texture to being ready for a fresh coat of paint requires several steps. First, we soak the popcorn and use our tools to scrape and remove it. Then, we need to float the joints with drywall mud and smooth out any rough spots. After that, we will add the appropriate texture onto the ceiling so that it seamlessly blends in. Finally, we'll prime the surface, making it ready to make whatever design statement you'd like to make in your home.
How long does popcorn ceiling removal take?
Typically, a small area takes about two days to completely remove the popcorn ceiling. An entire house, depending on the number and size of the rooms, can be treated in roughly three or four days. However, each room can be unique, potentially affecting the duration of the project. In addition, if you would like to paint the ceiling after the popcorn has been removed, that can also extend the work. When one of our Idea Guys comes to give you a free estimate, they can give you a more accurate idea of what to expect in terms of a timeline.
What prep do I need to do before you start?
As you might imagine, popcorn ceilings can make a mess when they are removed. We will cover furniture or move it out of the room as needed, but our team would appreciate your moving all the knickknacks and bed linens. That way, we can get right to work. Although our team will vacuum, sweep the floors, and try to contain the mess, you may want to arrange for a cleaning service to come into your home when we're done. The dust can be overwhelming and spread throughout the house. Also, if you can, we recommend that you not live in the house, i.e., stay at a hotel or a friend's house, during the project.