Painting Services – Dallas, TX
Local Services, Unparalleled Results
When it comes to painting your home, the skill, knowledge, and professionalism of the painter you choose can make a huge difference in your overall experience and final results. At Platinum Painting of Dallas, we have plenty of all 3, which is why we've been at the top of Angie's List for more than 8 years in a row. If you're interested in painting the outside or inside of your house or finishing your cabinets and doors, we're ready to provide the reliable and high-quality service you deserve. Give us a call today to get a free and accurate in-home estimate for your project. We know you'll be glad you did!
Why Choose Us:
Based in Dallas
Insured
Satisfaction Guaranteed
Serving All of North Texas
House Painting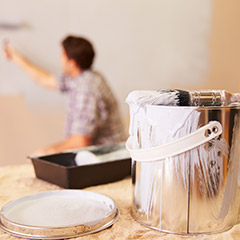 Whether you just want to change the color of your child's bedroom or give the entire outside of your house a serious makeover, Platinum Painting of Dallas is here to provide what you need and so much more. We offer a comprehensive array of house painting services and have plenty of experience working with all types of textures, glazes, and materials. Because we only focus on residential projects, you can trust that the results will be truly world-class. Let us know what you're thinking about doing—no job is too big or too small!
Interior Painting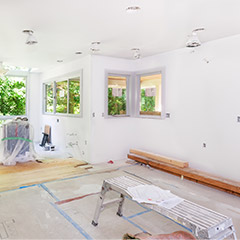 Interior painting is a great way to personalize and preserve your home. Simply changing the color of a room can completely revitalize it for a relatively small cost. While you could easily hire someone to do a decent job, at Platinum Painting, we guarantee to do a GREAT job. If there is a room or two in your house that could use a facelift, just give us a call. We have the tools, skill, and experience to bring it back to life. We specialize in every aspect of interior painting, meaning that any walls, ceilings, doors, and trim will turn out perfect.
Exterior Painting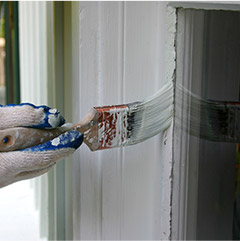 The outside of your home is constantly under assault by the weather, and the best way to prevent degradation of the wood, brick, or siding is to place a barrier over it. That barrier is house paint. Painting or repainting your house's exterior might seem like a huge job, but for Platinum Painting of Dallas, it's a regular day at the office. When done properly, a new exterior paint job can protect, preserve, and beautify your home all at the same time, and our team of experts will guarantee that this happens.
Wallpaper Removal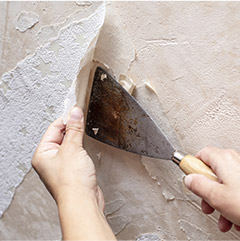 Wallpaper is an easy way to add a modern touch to any room, but eventually, it's going to look worn and outdated. If you have a papered room that could use a change, let Platinum Painting handle the removal in a gentle, safe, and damage-free way.
Popcorn Removal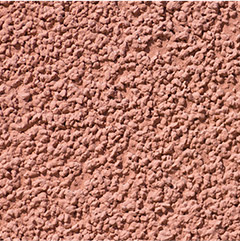 Popcorn ceilings are dated, messy, and could even be exposing your family to asbestos if your house was built before the 1970s. We can help you get rid of it! Our team will use professional grade sprayers and scrapers to thoroughly soak and remove popcorn from even the largest areas. Afterward, we can help you decide how to repaint or texture your ceiling.
Cabinet Painting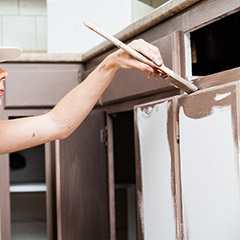 Most people spend a lot of time at home in the kitchen, which is why kitchen remodels are so popular, but many simply can't afford to install brand-new cabinets and countertops. Thankfully, an effective and more budget-friendly approach is just repainting the cabinets! A few coats can make a world of difference, and our team can work with you to choose the right colors and staining that will help completely revitalize the space for the fraction of the cost of a traditional makeover.