Wallpaper Removal – Dallas, TX
Get Rid of Old Wallpaper – No Damage Required!
Wallpaper is often used to spice up otherwise simple spaces, but the designs usually become outdated over time, plus the paper itself can start to show signs of wear and tear. Whether you just want to remove it or paint the room afterward, Platinum Painting of Dallas is here to make the process nice and easy from start to finish.
Why Choose Us:
Based in Dallas
Insured
Satisfaction Guaranteed
Serving All of North Texas
What to Consider When Removing Wallpaper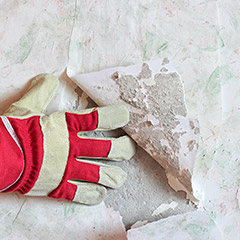 It might seem like a straightforward DIY project to remove your own wallpaper, but what many people don't know is that the process can be quite delicate! Mistakes can easily lead to damaged walls and lots of cleanup. As professionals, there are a few key things we'll consider when removing your wallpaper:
The Type of Paper: Some varieties have a vinyl coating while others are purely fabric. Every style calls for a different removal process for the best results.
The Timeframe: The length of time the wallpaper has been in place also plays a big factor, as different materials age in different ways.
The Wall: If the paper was applied to the wall without proper priming, then it will likely not come off cleanly without some extensive TLC.
Our team will use the appropriate solvents, steamers, and other professional tools needed to get the job done neatly and quickly even in the trickiest of circumstances.
The Benefits of Wallpaper Removal
The main benefit is that you finally get to stop looking at a pattern you don't really like anymore! If you've been wanting to change the feel of a room, getting rid of the wallpaper is an easy way to get back to a clean slate upon which you can place your new ideas.
Over time, wallpaper has a tendency to develop bubbles and peel, which can make your home look much older and run down. Sometimes, stray corners can even start to curl and yellow. For most people, simply removing the paper altogether and starting over is the best choice.
The Steps of Wallpaper Removal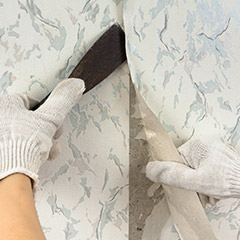 Prep: We'll apply non-toxic solutions to all wallpapered surfaces to make it easier to remove.
Removal: From there, we'll slowly and methodically remove the wallpaper using specialized tools. The goal is to avoid any damage to the walls or create small bits of paper that are difficult to clean up.
Cleanup: Once it's off, we'll wash away any leftover adhesive and fix any surface-level imperfections before giving everything a nice sanding. We can then paint the newly exposed wall if requested, and you'll have a chance to inspect and approve everything before we go.
Wallpaper Removal FAQs
As homeowners, we at Platinum Painting know that inviting a service company into your home to perform improvement projects requires trust. You want to feel confident that they will do the job right from start to finish and give you the results you're looking for. You may still have some questions about having your wallpaper removed with us, so we've answered some commonly asked questions below. If we've missed something, we invite you to contact us. Our team is here, ready to address your concerns in the most helpful way we can!
Can you paint over my wallpaper?
We strongly discourage painting over wallpaper; however, we can do so if you want us to. The problem is that it can bubble and peel away from the sheet rock at the very moment you introduce moisture to it, regardless of how long it has been on the walls. Also, wallpaper has a very different texture from bare walls, so you can easily tell when when you've painted over wallpaper. As a result, many potential homebuyers can be turned off when they see paint over wallpaper. It can suggest that a lot of work would be needed to get the house updated. If you would like to change your walls' aesthetics, we recommend removing the wallpaper and then painting them the desired color(s).
Will my walls be ready to paint once the wallpaper is removed?
The process of removing wallpaper requires more than simply tearing it from the wall. For example, the adhesive that keeps wallpaper in place often leaves residue and damage behind. We have specialized tools and solutions that help us remove any trace of the wallpaper, ensuring that the damage is minimal. Then we fix any damages to the sheet rock and texture the walls to make them look like new! Finally, we prime the walls, preparing it for a new start with a fresh coat of paint. To make sure that your walls look their best and that your paint lasts a long time, it's important to follow these steps.
How long does wallpaper removal take?
Several factors determine how long a removal project can take, including the type of wallpaper, how long it has been on the wall, and whether it was properly sealed and primed before application. Considering these factors, the project can be easy, smooth, and quick, or it can be more challenging and time consuming. Generally, removing roof wallpaper and repainting requires about two days. When our estimator evaluates your walls, they should give you a more specific timeframe for completing your unique project. In any case, we will do our best to remove the wallpaper cleanly and prepare it for a fresh start.
What prep do I need to do before you start?
In all honesty, you don't need to do much to prepare for our team's arrival to address your wallpaper. We simply ask that you remove pictures or artwork from the walls so that we can start right away. From beginning to end, we'll take special care of your walls, patiently removing the wallpaper and residue and fixing any damaged spots. While we work, you can rest easy knowing that our team will keep the room free from debris. By the time we're finished, the only indication that we were ever there will be the perfectly textured and primed walls, ready a new design statement.