House Painting – Dallas, TX
Refresh Your Home the Easy Way
Want to make your home look newer, cleaner, and more personalized? The team at Platinum Painting of Dallas can make these goals and many more a reality thanks to our comprehensive house painting services. We can do single-room projects, complete exterior makeovers, and everything in between! From start to finish, we'll take the time to ensure the highest level of quality and confirm that you're getting exactly what you want. To learn more and even get a free estimate, contact our us location today!
Why Choose Us:
Based in Dallas
Insured
Satisfaction Guaranteed
Serving All of North Texas
Why Should You Paint Your Home?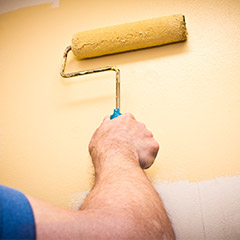 Painting the inside or outside of your home can do much more than just change their color. The right paint job can provide tangible benefits for both you and your home:
More Curb Appeal/Resale Value: Multiple studies have shown that the quality of a house's interior/exterior paint can actually increase its attractiveness to prospective buyers and have a direct effect on property value,
Better Protection: A good coat of paint can help protect the exterior of your house against Texas' ever-changing weather, while interior painting can help preserve the walls and ceilings.
Less Dust: Painting the interior surfaces of your home can actually help lower the dust level throughout it, particularly if you have plaster walls.
Budget-Friendly Makeover: If you've been wanting to spruce up your house for a while, but don't believe you have the budget for it, painting is a very wallet-friendly way to make a big difference in how your home looks and feels. It's certainly much cheaper than knocking down walls or buying expensive fixtures!
The Benefits of Using Professional Painters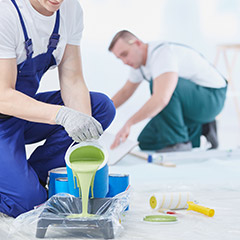 Thanks to the internet, you can quickly look up how to paint your house yourself, so why hire someone else to do it? While going the DIY route may be fine for small projects, hiring a professional house painting company like Platinum Painting of Dallas is the best way to ensure positive results for larger ones. Plus, if you hire us, you'll get to benefit from:
Our team only uses top-quality paints, tools, protective gear, and safety equipment to complete any job as quickly, safely, and effectively as possible.
Our team is trained to use the latest painting techniques, helping us provide fast and proficient work every time.
We can take care of any holes, cracks, stains, scuffs, and other kinds of minor damage along the way.
We'll do the cleanup! After we're done, it will seem like your house "magically" painted itself, as we won't leave a speck of anything behind.
Comprehensive Painting Services From One Trusted Company
At Platinum Painting, we focus all of our energy on residential projects, offering unique expertise you simply won't get from any other Dallas-based company. We're specialists at transforming houses to fit the visions of our clients, making the inside and/or outside of their homes look completely refreshed and renewed. With us, you'll just need to sit back and relax while we turn your dream project into a reality.
We guarantee that our work will last long after we're gone as well, as we only use top-brand Sherman-Williams paints and primers as well as high-quality brushes, rollers, and other tools. These, along with our skilled hands, will ensure the success of your project, keeping it on time and on budget, so you can start enjoying it right away. If you're ready to start your home makeover, don't wait-- contact us today for a free estimate!
Frequently Asked Questions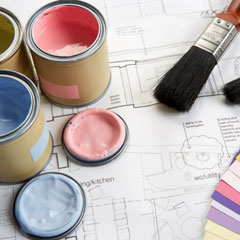 Choosing a service company to perform improvements on your home is a big decision. You want to make sure that they know what they're doing and will get the job done right. As homeowners ourselves, we at Platinum Painting understand completely. That's why we not only provide a satisfaction guarantee but we also want to provide as much information about us as possible so that you feel confident selecting us to paint your home. Here are the answers to some common questions that customers have asked us in the past. If you have additional questions, don't hesitate to give us a call!
How many houses have you painted?
Since our start back in 2008, we have painted more than 10,000 homes in North Texas. That number includes small condos, sprawling mansions, and everything in between. As a result, our professional team knows how to tackle any painting project. Some of our team members have been with us since the beginning and have years of industry experience that they bring to the table. Despite our rapid growth, our priority has not changed—each customer's satisfaction comes first. From the first phone call to the final inspection on our work, we do what's necessary to deliver flawless results you love.
What prep work do I need to do before you start?
We understand that as a homeowner, you want work crews in and out of your house as fast as possible. That's why we request that you do a few things in advance so that our team can get right to what we do best. For interior projects, make sure you keep your pets and kids safely away from our work areas. In rooms that we'll be painting, remove everything, including paintings and pictures, from the walls, and if we are painting a closet, empty it completely. Collect any items from tables, mantles or shelves in that area as well. To help us move freely as we work, please remove all child or pet gates.
Is there an advantage to painting the interior and exterior at the same time?
Absolutely! Part of satisfying our customers is saving them money wherever and whenever we can. Bundling interior and exterior painting projects can reduce the amount of time our crews need to work at your home, saving you money on the cost of labor. You see, paint needs time to dry in between coats, and if you have both interior and exterior work for us, we can simply use that time to address the other while we wait for it to dry. Compared to doing the painting jobs on separate occasions, we can use our time much more efficiently by tackling both at the same time.
What type of paint do you use?
We are completely dedicated to satisfying our customers, so if you have a specific paint brand or a particular store that you'd like us to use in painting your home, we will gladly accommodate your preferences. If, however, you don't have any favorites, we have an established relationship with Sherwin Williams because of their affordable prices and their consistent quality. Typically, we choose their Cashmere Interior Acrylic Latex and SuperPaint Exterior Acrylic paints and find that these brands give us the best results for the price. But, again, we are happy to use whatever you choose.