Interior Painting – Dallas, TX
Love Your Living Space
We spend a lot of time in our homes, whether we're working hard in the office, settling down for a meal in the kitchen, or just relaxing in the living room. While you might not think about it, the look and feel of these spaces can have a significant and tangible impact on your mood and wellbeing. Do you have a room that could benefit from brightening up the walls? Are there ceilings or mantels that could use some help? Whatever your interior painting goals might be, Platinum Painting of Dallas has the skills and expertise to help you meet them without the stress of doing it yourself.
Why Choose Us:
Based in Dallas
Insured
Satisfaction Guaranteed
Serving All of North Texas
What Can We Paint?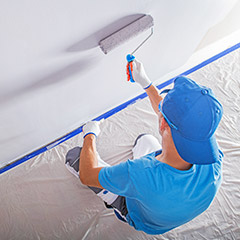 Platinum Painting has experience with over 10,000 homes, so from single bedrooms to small condos to sprawling mansions, we're able to paint absolutely everything you can think of. Our interior services include:
Walls (any height)
Ceilings (any height)
Doors & Windows
French Doors & Windows
Mantels
Bookshelves
Paneling & Wainscotting
Cabinets & Wood Shelves
Baseboards & Crown Moldings
Chair Rail Moldings
And much more!
The Steps of Interior Painting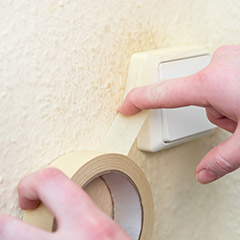 Set & Prep: We'll remove all furniture and drapery from any areas we are painting and caulk and sand wherever we need along doorjambs, baseboards, and ceiling crowns. We'll let you handle any beloved or fragile items so you can feel secure! We also ask that you make sure that any pets will stay safely out of the way. You can learn more about prepping your house on our Getting Started page.
Paint: After we've primed and repaired any areas during the prep phase, your selected color(s) of Sherman-Williams paint will be applied to all requested surfaces in a way that will guarantee a smooth and uniform finish.
Cleanup: Yes, we'll handle the entire cleanup process! You won't have to do a thing. We'll sweep, vacuum, take out the trash, and put all furniture and drapery back in its place.
Final Inspection: Before we go, we'll walk you through all of the painted spaces so you can inspect the work and give your feedback. If you have any concerns or want any tweaks, be sure to let us know! Making you happy is our top priority.
Dedicated Color Consultation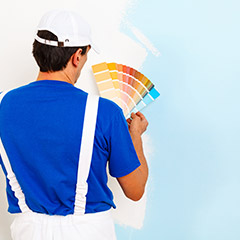 Many homeowners start out excited planning an interior painting project, but they can quickly become overwhelmed thanks to the staggering amount of colors. Which one is best? Should it all match or contrast? What type of feeling are you going for? There are a lot of choices you'll have to live with for years, but Platinum Painting of Dallas can help make the process easy with a color consultation. A member of our team will come to your house and go over different options with you so you can pick the perfect ones with complete confidence. And, you can also use the Paint Color Visualizer from Sherman-Williams to play around with different colors to help you get started.
Interior painting doesn't have to be a hassle thanks to Platinum Painting. We'll handle everything and leave nothing behind when we're gone—just a freshly painted room or two! To learn more about your options with us and get a free estimate, contact us today.
Interior Painting FAQs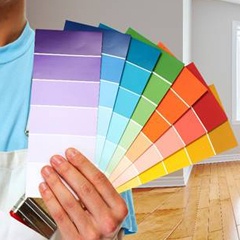 Your home. It's where you sleep, where you eat, where you relax—where you live. It takes a great deal of trust to have someone come into your home to make improvements. You're trusting that they will treat your home with the respect it deserves. We know because we're homeowners too! At Platinum Painting, we take that trust seriously and reward it by making each customer's satisfaction our first priority for every project, no matter how big or small. To help you determine the right painting service to use, here are some questions that our past clients have asked us.
What do you do to protect my belongings?
We understand that your possessions are valuable to you on multiple levels. That's why we treat them with the utmost care and respect. Before we even reach for a paintbrush, we prepare the area we paint. We remove the furniture and drapery so they won't be damaged, but we let you handle any fragile or beloved items so that you can be sure they're safe. When we are finished, we clean up after ourselves and move everything back into place, just as we found it. At the final inspection, you have the opportunity to make sure that you're completely satisfied with our work.
How long does the process take?
From start to finish, we strive to make the process as smooth and easy for you as possible. That means working efficiently and saving you valuable time. When you call to schedule your estimate, we are typically able to accommodate appointments within two to four days. Then, after you've received your estimate, we can schedule the project as soon as two weeks later. That time allows us to prepare necessary supplies so that we don't have to waste any time while we work in your house. The duration of the project will depend on the number and size of the rooms in the project, but we do our best to get in, get it done well, and get out of your hair as soon possible.
Can you paint really high ceilings?
We certainly can. No ceiling is too high for our experienced, highly trained team of residential painting professionals. We've served over 10,000 homes in North Texas ranging from small condos to sprawling mansions, so there is no interior painting project that our team isn't able to handle. Our estimators have years of experience in the field and know how to provide accurate, fair estimates, so you'll have fewer surprises, even for more complicated painting projects. Even while painting large surfaces, we ensure that every tiny detail is to your satisfaction. Our job isn't finished until you give us your final approval.
Do you help me pick the colors?
Yes, we do! There are seemingly limitless color options out there to choose from, and it can easily become overwhelming. That's why we provide a color consultation with a member of our team. They will come to your house and help you narrow the many available choices down to the perfect ones for you and your home. That way, you can feel confident in your decision. Plus, because we get our paint from Sherwin-Williams, you have access to the Paint Color Visualizer, which allows you get an idea of what the final result will look like in the space.