September 8, 2021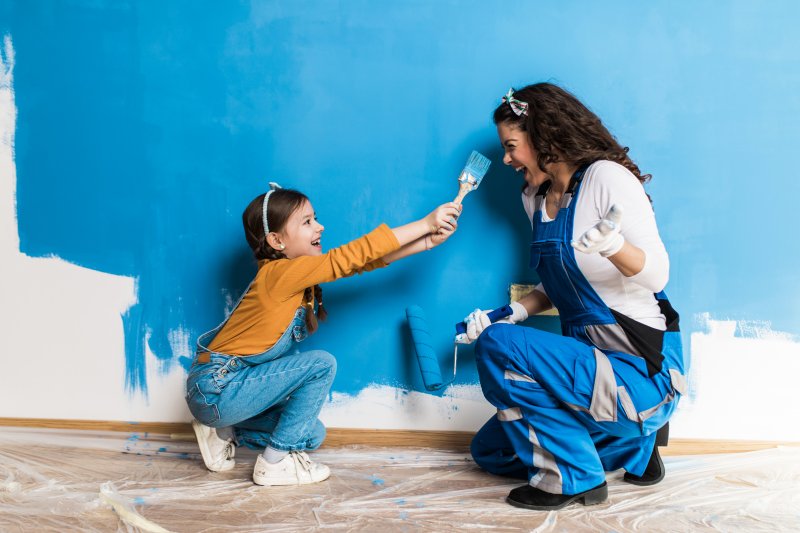 Are you tired of the lackluster, drabby walls in your child's room? If so, you may be thinking about adding a fresh coat of paint to brighten up the space. When picking up a home-painting project, some people like to plan carefully to make sure the final product is mature and sophisticated. However, painting a kid's room should be a completely different process. Tossing out the rulebook can help you give your little one an amazing room! Read on for a few tips to keep in mind.
Experiment with Your Creativity
Children have fascinating imaginations. They simply create things without thinking about what goes best what – and the final product is usually something amazing! As a parent, you should consider following suit. Don't be afraid to toss out the rules and let your imagination run free while painting your kid's room. Get playful, creative, and have fun when choosing the color scheme. In the end, your little ones will wholeheartedly love the way you brightened up their space!
Go Wild with Colors
Do you think your child may like something fun and unique? If so, go crazy with your color choices! You don't have to limit yourself to just one color for the walls and another for the trim. Kids don't care or even think about those things. Instead, try experimenting with several different colors. You can paint one wall blue, the trim baby pink, the ceiling green – it truly doesn't matter! But if that's too crazy for you and your little one, you can also choose a color that they'll like when they're older as well. White, mint green, and even beige are a few good options to consider.
Don't Forget Wall Decorations
If you don't want to add wallpaper to the room, no problem – try adding wall decorations instead! There's a seemingly endless number of options available in-stores, including cartoon characters, superheroes, geometric patterns, mystical creatures, you name it. Most of these decals are easy to install and remove, meaning you can customize your little one's room in any way you can imagine. Plus, they'll have no problem switching out the decorations on their own when they're older.
Get Your Little One Involved
It's essential to get your child's input on what color they want their room to be. After all, it's their room. If they choose a crazy color that you're not a big fan of, you can make it an accent on a neutral-colored wall. The point is to get your little one involved in the process and give them a chance to express their personality.
Grown-up rules don't apply when painting a kid's room. By experimenting with creative looks, you'll give your child an amazing room they'll want to spend all day in!
About Platinum Painting Dallas
Our team at Platinum Painting Dallas will always go the extra mile to make sure you're satisfied with our services and results. We will do everything we can to exceed your expectations every time. To learn more about painting a kid's room, visit our website or call (214) 347-7269.
Comments Off

on Painting Your Child's Room? Don't Be Afraid to Break the Rules!
No Comments
No comments yet.
RSS feed for comments on this post.
Sorry, the comment form is closed at this time.