March 11, 2022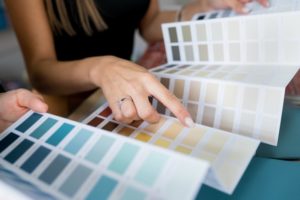 Choosing your home's color schemes seems like it should be a simple decision. However, as you thumb through home design magazines and endless color swatches, you become overwhelmed with the paint color options available. While it's fun to see how others have decorated their houses, you want to create your own unique space, but consider what's popular right now. This is more complicated than you thought.
Can anyone help you make this complicated choice? A professional color consultant is a great resource to help you navigate color combinations and find the perfect paint shade(s). What can a color consultant do for you? Read on to find out!
Share Popular Color Trends
Some design trends come and go, while others are here to stay. Some make a bold statement, while others are more calm. How can you know which paint trends you should pay attention to for your home? Your consultant can let you know about what designers are currently favoring so that you can create a stylish atmosphere where you will want to spend your time.
Consider Color Theory and Psychology
Selecting the color for the walls is more complex that simply picking a swatch. Paint color can have an emotional influence on you and your guests; in fact, some studies have found that color can even impact human behavior. A color consultant can take these theories into consideration and help you find the palette that will help you create the type of environment you want.
Take the Stress Out of Style Decisions
As you might imagine, staying up to date on style and color trends requires a lot of time and energy. After all, it's your color consultant's full-time job! Instead of having to devote yourself to learning about the industry, you can hire someone who has already done all the research and can take the burden off your shoulders. As a result, you can have an easy, stress-free discussion about what you're envisioning, and the color consultant can guide you to the right color choice to make your dreams a reality.
Save You Money and Time
The last thing you want to experience after a finished home improvement project is realizing you don't like how it turned out. You shouldn't be having second thoughts about your color choice after it's already on the wall—or worse, have to pay to redo the painting job. What a waste of time and money!
By working with a color consultant upfront, you can confirm that the color is the right choice for your home before the first can is opened, sparing you the expense of rework. When the painters are done, you can feel nothing but joy and excitement.
In the end, you're still the one making the final decision and living with the paint job, but having a color consultant by your side can help you make the right choice from the start. They can offer these services so that you can achieve the look and feel you want for your home.
About Platinum Painting of Dallas
Platinum Painting of Dallas has helped tens of thousands of homeowners in the DFW area improve their houses inside and out. From one-room projects to entire three-floor estates, each project matters to us and receives our care and attention. We work with independent color consultants who can meet with you to determine your color choice. If you would like to work with Platinum Painting and our consultants, give our Customer Care team a call today!
Comments Off

on 4 Things a Professional Color Consultant Can Do for You
No Comments
No comments yet.
RSS feed for comments on this post.
Sorry, the comment form is closed at this time.